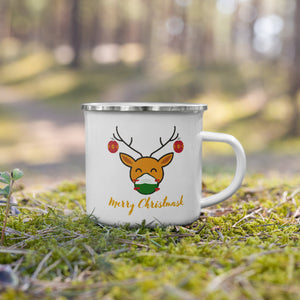 This cute Merry Christmask enamel coffee mug with a reindeer wearing a face mask captures the moment of this special time. The pandemic and 2020 year and beyond is definitely a time we will never forget. The mug has the words "Merry Christmask" written in gold on it with a white background and silver rim. Festive cup for coffee, tea, and hot chocolate lovers to drink from. Makes a great gift for yourself or for others as a great social distancing Christmas gift. Also, makes a great gift for doctors, nurses, or other professions that wear a face mask.
Every happy camper needs a unique camper mug. It's lightweight, durable and multifunctional. Use it for your favorite beverage or a hot meal, and attach it to your bag for easy access on a hike.
🎅 Design is on both sides, so perfect for a right or left handed person.
🎁 Material: Enamel with a silver rim.
🎅 Dimensions: height 3.14″ (8 cm), diameter 3.54″(9 cm).
🎁 Hand-wash only.
🎅12 ounces.
Attention!
Don't heat liquids or food directly in the mug. It can damage the coating.